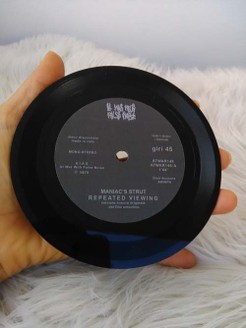 5"-
(CD format) - 12 cm diam.
Available on black color with 1,5 mm thickness or clear, economical solution with 1,00 mm thickness, complete personalized digital printed labes in b/white or color.
Max. recording time per side 1'30".
This small records have the same dimensions of a standard cd and can be combined with all special cardboard packaging that normally AUA RECORDS realize in the cd duplication service like: single cardboard covers, two or three panel cardboard sleeves, please take a look in our website:
.....................................................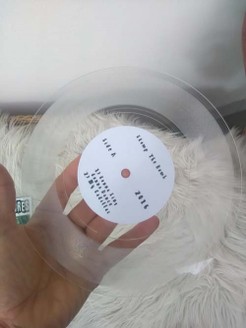 Available on black vinyl, thickness 1,5 mm or 2,00 mm and clear economy with 1,00 mm thickness. Complete with personalized digital printed labels in color or b/white option. All records, except economy version ( 1,00 mm thick) complete with standard white inner sleeve with 2 holes.
Max recording time per side 33 rpm 4', 45 prm 3', mono 5:15.